Scroll down and click to choose the episode you want to watch.
If an episode is offline or has been removed, please report it, we will get a new link within 2 - 3 hours.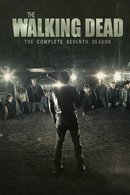 The Walking Dead Season 7
The Walking Dead's seventh season picks up immediately after the Season 6 finale cliffhanger, revealing who the unlucky one is on the receiving end of Lucille, a baseball bat wrapped in barbed wire.