Scroll down and click to choose the episode you want to watch.
If an episode is offline or has been removed, please report it, we will get a new link within 2 - 3 hours.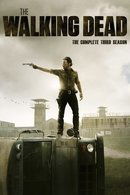 The Walking Dead Season 3
Rick Grimes and his band of survivors continue to seek refuge in this desolate post apocalyptic world. They soon discover that there are greater forces to fear than just the walking dead. Rick, Daryl, T-Dog, Glenn and Maggie fight off walkers outside the prison. They decide to move into the prison the next day and try to make the prison into a safe fortress. They rush Hershel to the prison cafeteria, where Rick amputates the leg at the knee while T-Dog holds off the walkers. Five prison survivors, trapped in the cafeteria and surviving on pantry food, hear the commotion and come to their location.