Scroll down and click to choose the episode you want to watch.
If an episode is offline or has been removed, please report it, we will get a new link within 2 - 3 hours.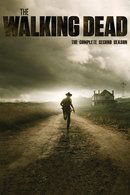 The Walking Dead Season 2
The second season begins with Rick and his group of survivors leaving Atlanta. They decide Fort Benning will be their next destination. As the fight to stay alive intensifies and personal rivalries continue to fuel, the group struggles to hold on to their humanity in a time where slim chances are all that is left. Carol, in her grief, withdraws, as does Daryl, who claims that the group is "broken". Hershel, reacting to what has happened, orders Rick and his group to leave immediately, before disappearing to grieve for his family. Rick and Glenn go searching for Hershel and discover him drinking heavily in a local tavern.